Tia Ross, founder and director of Black Writers Events, was recently featured among Women Making History in honor of Women's History month. In this insightful interview with Jeanette Hill, the discussion focuses on her work with and future plans for Black Writers Reunion & Conference, Black Writers Alliance, and Black Writers Events.
---
You created the Black Writer's Reunion Conference (BWRC), the most successful writer's conference for African American writers and authors. Tell us how you came up with the concept and how you implemented it so successfully?
Memphis Vaughan Jr. of TimBookTu.com and I first toyed around with the idea of a writer's conference for our online communities in the late 90s. I'd just formed the first 501c3 literary arts association to organize online for Black writers and he was featuring up-and-coming authors on his site (and still is, 17 years later). I thought it was too soon to launch the event. A year later, members of my organization wanted a meet-up, and Charene Thornton, one of the members, began coordinating the event in Atlanta. I felt that if we were going to dedicate valuable time and resources to it, then we needed to also incorporate education, book promotions, contests, and other key conference components.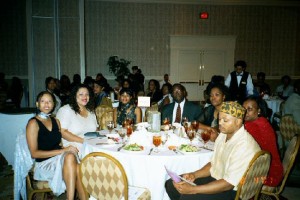 We were already this big, very close-knit family of writers by that time, so I gave it the name "Reunion & Conference" to acknowledge the family gathering as an equally important component of the event. Its success was borne from the fact that it was, and continued to be, a collective family effort in support of the vision I shared with them and our mission to continue to build upon the nurturing community we all cherished.
You are a master at networking and negotiating, both valued skills. When working on a project with so many variable components, how do you determine which people will be a fit?
Read more at Tia Ross, A True Renaissance Woman.